There have been so many new books released these past three months, and it seems my reading has been too fast for my reviewing. I think going forward, I might try and do monthly mini reviews.
The Revenant Gun
By Yoon Ha Lee
Published June 2018
Score: 10/10
I don't think I can actually give a review for just The Revenant Gun. It's the final volume in a trilogy that won me over long ago, and it completed the series perfectly, so 10/10.
The Machineries of Empire trilogy has been a wild ride, and whilst it blew me away, it's not the easiest series to follow and understand. There is little exposition, the characters all have unusual names, so they can be hard to keep track of, and the technology is pretty far out. In fact, at first I was thinking of it as 'they invented magic'. But that's all stuff you'd have to get through in Ninefox Gambit. If you enjoyed book one, you'll love the whole series.
The Revenant Gun is set many years after the end of Raven Stratagem, and involves all the key players still left in the fight for the Hexarcharte playing their endgames. For millennia, the Hexarchate has relied on human sacrifice and torture to survive, and after the machinations of Cheris, Jedao, and everyone else who has found this system unacceptable, the immortal architect of the Hexarchate, Nirai Kujan, is setting out to take back control. This is a huge climax for the series, and such a wonderful end.
The Adventure Zone: Here There Be Gerblins
By Clint McElroys, Griffin McElroy, Justin McElroy, Travis McElroy, and Carey Pietsch
Published July 2018
Score: 7.5/10
The Adventure Zone is a hit podcast where three brothers and their father play Dungeons and Dragons. The McElroy's (Who you might also know from the podcast My Brother, My Brother and Me) first campaign, the Balance arc, spanned 69 episodes across three years. It was hilarious, heart-warming, and a hell of a lot of fun. The Adventure Zone; Balance has been a significant part off my life over the past few years, as my partner and I would listen to the latest episodes in nearly every car trip and constantly discuss the show. Ever since hearing a graphic novel adaptation of the show was coming, I've been excited.
Now I've read it and it is such a good adaptation. The art is fantastic, and there is still plenty of fourth-wall breaking and reminders that the characters are playing a game of D&D. It is an amazing adaptation that captures the feel of the show. The downside though is that this is only an adaptation of the first campaign in the story, Here There Be Gerblins, which I feel is the weakest quest in the story. The campaign was based on the Dungeons and Dragons starter set adventure Lost Mine of Phandelvar, so it has a different feel to the other campaigns, which were designed around Griffin's Balance storyline. Some names had to be changed due to licensing issues, so Klarg is now G'nash.
This is a fun adaptation, and an excellent start to the series in graphic novel form. I can't wait for book 2, Murder on the Rockport Limited.  
Deep Roots
By Ruthanna Emerys
Published July 2018
Score: 10/10
The Whisperer in Darkness
By H.P. Lovecraft
Published 1931
Score 8/10
Emrys's Innsmouth Legacy is a genius reinvention of Lovecraft's mythos. Deep Roots is the second novel in the series, which follows Aphra Marsh, Deep One and one of only two survivors of the government raids on Innsmouth at the end of Lovecraft's A Shadow Over Innsmouth. In the first book of the series, The Winter Tide, Aphra agrees to help the FBI investigate a Soviet spy who may have information on powerful magic, and along the way finds a new family, and reconnects with her people's elders, who live at the bottom of the ocean.
In Deep Roots, Aphra and her brother Caleb are looking to rebuild Innsmouth by finding long lost relatives. People who have ancestors from the town and may have enough Deep One blood to undergo the metamorphism that will allow them to become aquatic immortals. Or at least to have children that may inherit this ability.
The Marsh's search leads their group to New York City, were they encounter Francis and her young son Freddy. Unfortunately, Freddy has gone missing, and our heroes find him hanging out with the Outer Ones from The Whisperer in Darkness.
The Whisperer in Darkness was one of Lovecraft's later stories, and marked a shift towards science fiction. This novella follows Professor Albert Wilmarth as he writes a sceptical article about strange bodies that are sighted after flooding in Vermont. Wilmarth begins a correspondence with Henry Akeley, a local of Vermont who has seen signs of monsters near his isolated house in the hills. Akeley sends Wilmarth a record of a ritual with humans and these monstrous Mi-go chanting to Cthulhu and Nyarlathotep, as well as other information that convinces Wilmarth that the monsters are real. As the letters go back and forth, Akeley is convinced that the Mi-go are watching him, and that they wish to silence him. With every letter, Akeley's situation grows more perilous, until out of the blue he makes peace with the Mi-go, who he now refers to as 'The Outer Ones'. He explains to Wilmarth that the Outer Ones are travellers who look for people to talk to, and have the technology to allow their friends to travel to far away planets. He assures Wilmarth of the Outer-One's friendly intentions and invites him for a visit. Wilmarth is excited by the possibility, but he still has a lot of doubts about the Outer One's intentions.
In Deep Roots, Aphra and the gang have similar misgivings about the Outer Ones, and finding out the actual agenda of these bohemian fungus aliens is vital not just for earning Freddy's co-operation, but potentially for protecting humankind itself.
Lovecraft saw 'the other' as a subject of horror, and his mythos reflects that. Emrys's genius is that she takes the same mythos and portrays 'the other' as a source of strength and opportunity. Deep Roots has so many Lovecraft staples: The Deep Ones of Innsmouth, the Mi-go/Outer Ones, the K'n-yan, a trip to the Dreamlands and a meeting with the Ghouls, another perspective on the Yith, and probably more that I'm not thinking of. And yet despite being all about the most well known works of horror, this book and series feel like a 1950s urban fantasy.
I liked The Winter Tide a lot, but I absolutely love Deep Roots. It seems at the moment there are no more Innsmouth Legacy books in the works, but Emrys hasn't ruled out a return to Aphra's world. I hope we do return one day.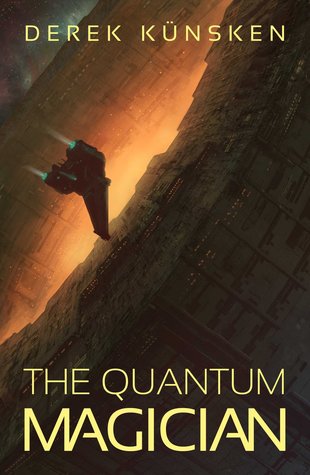 The Quantum Magician
By Derek Künsken
Published October 2018
Score: 7/10
The Quantum Magician was serialised in Analog Science Fiction and Fact in the Jan/Feb, Mar/Apr, and May/Jun 2018 issues. I started reading this book as soon as I got the Jan/Feb issue, but then I kept getting distracted and didn't continue until June. This novel is a complicated heist in a hard SF world, so taking so long to read it was not a good idea. If it wasn't for Analog providing a recap, I would have been completely lost when I finally got to part 2. Actually, I probably should have just started again, because I was still a bit lost. This is a book you need to be paying attention to, but I feel like it's worth it.
This story follows conman Belisarius Arjona, a man of the subspecies Homo Quantus, who can entre altered states of mind that allow him to perceive quantum states. Like most people I know very little about quantum mechanics, but Künsken does a wonderful job of both describing what Belisarius and the other Homo Quantus perceive, and in ensuring the story always makes sense.
Belisarius is hired to get a fleet of advanced warships through a heavily guarded wormhole, a job that will require a team consisting of all the different subspecies of humanity, including the aquatic Tribe of the Mongrel, an A.I that thinks it is Saint Matthew, and the Puppets.
Oh damn, don't get me started on the Puppets. They were engineered to be a slave race, who are small in statue and the scent of their masters triggers a sense of religious awe that the Puppets cannot survive without. But the Puppets overthrew their masters (for their own protection) and keep them imprisoned, only parading them around to get their fix. The scenes with Puppets worshipping their masters were extremely disturbing. There was some messed up shit there that raises questions about morality and free will.
The Quantum Magician is a fun heist in a fascinating, sometimes disturbing world. Would definitely recommend it when it is released in October. I'll try and re-read it at some point. Magician is Künsken's first novel, but some of his short fiction is set in the same universe, so I'll have to remember to check out more of his work.
The Descent of Monsters
By JY Yang
Published July 2018
Score: 7.5/10
I've been enjoying JY Yang's Tensorate series so far. The Black Tides of Heaven and The Red Threads of Fortune were amazing novellas that drew me into a unique silkpunk world with an interesting story and cast of characters. The Descent of Monsters continues this story, but it is very different to the previous novellas.
This story is told entirely through letters and journal entries. Because of that, we don't get to feel as much of the world as we did in the previous novellas. We also don't get any explanation on the culture or magic system, so whilst Black Tides and Red Threads can both stand alone, Descent of Monsters needs to be read third. It's also interesting that the main character in Descent was not in the previous novellas, so we get to see the beloved characters from the first novellas from an outsider's perspective.
The story of Descent follows up on a lot of story erm… threads that were introduced in Red Threads. I enjoyed seeing this storyline followed, but I didn't enjoy this story as much as the previous novellas. I miss seeing as much of the Tensorate world as Yang can describe, and our new hero Chuwan picks up the idiot ball near the end.
Despite these misgivings, I still greatly enjoy this series and this book. I love where the story is going, and I love the normalisation of queer characters and correct pronoun use for non-binary characters. The next entry in the series, To Ascend to Godhod, is set to be released next year, and I am looking forward to it.
Beneath the Sugar Sky
By Seanan McGuire
Published January 2018
Score: 10/10
When I read Every Heart a Doorway, the first in the Wayward Children series, I found it enjoyable but felt it didn't live up to the hype. Because of that, it took me a while to pick up Down Amongst the Sticks and Bones, but when I did I fell in love so hard. Then I was excited to read Beneath the Sugar Sky and so far it's my favourite of the three.
The Wayward Children series is about children who slip through portals into fantasy worlds (think Narnia) and then find themselves back in our world. What do you do when you become a hero in a magical place and are then forced back into your original world, where you no longer fit in? I've always loved the premise, and with each book McGuire's exploration of this premise gets better. Sugar Sky returns to Elenore West's Home for Wayward Children, and we follow some of our favourite students, Christopher and Kade (who have returned from a Day of the Dead inspired world and a fantasy world of fairies and goblins respectively), along with newcomer Cora the mermaid and Nadia the drowned girl, as they deal with the fallout of the murders in Doorway. Rini, a girl in a dress made of cake, falls from the sky, looking to stop her mother Sumi (one of the girls murdered in Doorway) from dying before she returns to a candy land to overthrow the Queen of Cakes and give birth to Rini. Rini brings with her a magic bracelet that can travel between worlds, so we get an actual quest and it is amazing.
McGuire's writing style is magical, with this series having a strong fairy tale feeling. I also loved the characters and worldbuilding, and in Sugar Sky the contrast between the characters, who come from logical, and sometimes dark worlds, and the richly detailed and highly illogical candy land of Confection was awesome.
I came across an artist named Rovina Cai, who was commissioned by Tor.com to provide illustrations for the series. (See them here) She captures the feel of the series really well, and these illustrations are worth checking out.
There are two more known Wayward children stories in the works. In an Absent Dream is due out in January 2019, and tells the story of Lundy in the Goblin Market. All I can find out about book 5 is that the title is Come Tumbling Down, and expected publication is in 2020. I imagine McGuire has a lot more stories to tell in this series, and I look forward to following the Wayward Children for years to come.
These were the standouts from the past few months, but I have read other things that I'd like to talk about later, such as Saga and Galaxy Patrol. This will do for now though. As much as I like my long detailed reviews, I'll try and do monthly smaller ones. Hopefully doing so will allow me to discuss a larger variety of topics.
Happy Reading,
~Lauren