Alright, a bit of a September/October page, since I wanted to talk about Rogue Protocol and Exit Strategy together. And, also because I've been pre-occupied. Yeah, I admit it, I failed at a monthly review thing after just one month.
I've read a lot of short fiction, but today I'm going to talk about the two novels and two novellas I have read since my last review post. All have been 2018 release, and all I loved a lot.
Witchmark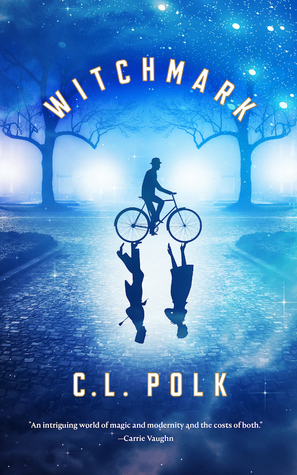 by C.L Polk
Published June 2018
Score: 8.5
I caved into reading this one after seeing it advertised and talked about a lot, and I was not disappointed. I really liked the world and magic system, both of which reminded me of the anime Fullmetal Alchemist with maybe a dash of Harry Potter, except with a more Edwardian England feel. Witchmark takes place in a fictional country called Aeland, which has been fighting a war with Laneer for years. The protagonist Miles is a doctor and a war veteran, who treats other veterans suffering shell-shock. Miles is also a witch. In this world, there is a secret society of witches that control most of what happens in Aeland. These witches are the nobility of the country, and are all inter-related. Witches can be born outside this society, but they are considered incapable of wielding their powers without going mad, and as a result are locked away in witch asylums. Miles was born into the upper class, but ran away at an early age, because this nobility has some pretty messed up practices. Like enslaving the less powerful witches, so they are forced to be magic batteries.
The story itself is a paranormal mystery, where Miles must discover who killed one of his patients, unravel a conspiracy about the war, find out why some of his patients are going crazy and killing their families, and navigate a reunion with his sister and the world he left behind. All the while he is aided by a strange, unnaturally handsome man named Tristan. I'm not usually a big fan of fast romances, but I really enjoyed the one between Miles and Tristan.
I enjoyed everything about this book. Loved the world and characters, there was a lot going on in the plot, but it all came together in the end. This book also examines a lot of big issues, such as war, servitude, and class privilege. This is an amazing first novel.
Space Opera
by Catherynne M. Valente
Published April 2018
Score: 9/10
Alright, this was awesome, but it may not be for everyone. The premise of this book is simply 'Eurovision in space', with Humanity forced to compete and threatened with annihilation if we lose. As soon as I knew this book was a thing, I knew I had to read it.
As the summery and title may suggest, this is a comedy book. The humour is heavily influenced by Douglas Adam's Hitchhikers Guide to the Galaxy, and even though I liked Hitchhiker, I was a bit weary about Valente's style as I started the book. I got into it quickly enough. I also liked that even though it was a comedy, there were some hard, very serious truths beneath the surface. The reason humanity is being asked to sing is so the rest of the galaxy can judge whether or not we are sentient and deserving of a place in their community. Throughout the book, a lot of arguments as to why we may deserve to be destroyed are bought up, and the stars of the book, Decibel Jones and the Absolute Zeros, encounter a fair bit of racism from their fellow humans, and have their own flaws and regrets to work through.
Another thing that will probably turn a lot of people off this book is that there is not a lot of plot. The first half of the book is mostly worldbuilding, which interested me because Valente has created some really fun aliens, but didn't pull me into the story. As much as I liked the aliens, I did keep getting a few of them mixed up at times. Once our stars reach the host planet of Space Eurovision though, the plot picks up. I binge read the last quarter of the book, constantly saying 'just one more chapter' the whole time. It was so fun, and so crazy. I've been telling everyone how fun this book is, and now I'm happy to recommend it to the world.
Rogue Protocol and Exit Strategy
by Martha Wells
Published August and October 2018
 Score: 8/10 and 9.5/10
I have been in love with the Murderbot Diaries series so far, but I'll admit I was worried when I started Rogue Protocol. Maybe it's because I was listening to it directly after Artificial Condition (was listening to it with my partner on a long car trip), but the start of Rogue Protocol just felt so long and repetitive. I couldn't help but wonder if maybe my poor Murderbot was going to become a bad series.
I shouldn't have panicked. Murderbot found itself on a terraforming station with new humans to protect and some of the toughest enemies it has yet encountered. Rogue Protocol became a thrilling action-packed adventure, that not only had Murderbot be a total badarse, but also forced it to undergo a lot of personal growth. The ending left me totally blown away.
Exit Strategy concludes the novella series, and it is such an amazing conclusion. Murderbot finally meets it's humans from All Systems Red, and it has it's final showdown with the evil Greycris company. Exit Strategy is another action-packed and emotional ride, and whilst it wraps up the quartet, it also leaves the door open for the series to continue. Which is good, because a Murderbot novel is in the works.
Whilst reading and listening to the Murderbot series, I often thought how cool it would be as a video game. Fighting and hacking like Murderbot would be fun, and there is a lot of scope for puzzles and stealth missions. But then I realised that a Murderbot game would be mostly escort missions, which are usually the worst. Oh well, it's still an amazing series. Also the audiobooks narrated by Kevin R. Free are really well done. Can't wait for the novel.
And that's my September and early October. There was another book I nearly finished, but that deserves it's own full review. Or to be completely forgotten; either one works. Until then, happy reading.
~Lauren