First month of the year and I'm making an okay start with my goal of reading 100 books. So far, I'm only 3 books behind schedule. That's okay for now though. I got to catch up on some of my magazine back issues and graphic novel series, as well as read a few books I've been meaning to get around to for a while.
Uncanny Issue #23: Dinosaur Issue
Published July 2018
Score: N/A
Book Bingo Tiles: Has Dinosaurs (random bingo card)
I don't subscribe to Uncanny, but I do get an issue every now and then. Also, Uncanny's stories are published online and can be read for free, so I often read individual stories that get recommended to me. This issue was a bonus Kickstarter stretch goal; a shared universe dinosaur issue. Hence the awesome T-Rex on the cover.
I loved this idea, knew I wanted the issue, and enjoyed reading it a lot. As with any magazine or short story collection, there are some stories that I liked a lot more than others, but there weren't any in this set that I disliked. Well, maybe Nails in my Feet by Mary Robinette Kowal. It wasn't a bad story, but it seemed weirdly out of place being all about a puppet complaining. But it was well written and super short, so if it wasn't for the fact that it's the only thing I've read by Kowal and not liked I probably wouldn't have thought much of it.
The stand out for me was The Tale of the Three Beautiful Raptor Sisters and the Prince Who Was Made of Meat by Brooke Bolander. It's a dinosaur fairy tale. Yup, dinosaur fairy tale. It is one hell of a ride. I'd say it alone is worth getting the whole issue for, but this is Uncanny, so you could read this story here without getting the magazine.
But getting the whole issue is still a good idea. Even though all the stories are about dinosaurs, there is a lot of variety. The shared universe seems more like a shared multiverse, with dinosaurs entering fairy tale worlds, wuxia-inspired worlds, an innocent town (in verse) and our own world. Of course, raptors seem to be the dinosaur of choice for a lot of the stories, but raptors are cool, so I didn't mind.
In the Vanisher's Palace
By Aliette de Bodard
Published:
Score: 7.5/10
Book Bingo Tiles: Shifters (Ally's Appraisals card)
A f/f retelling of Beauty and the Beast set in fantasy post-apocalyptic Vietnam. Also, the beast is a shape-shifting dragon.
I loved how this story uses Vietnamese mythology and manners. I don't know a lot about Vietnamese culture, but I felt Bodard did a good job of immersing the reader in the world without over-explaining or confusing someone who hasn't encountered these honorifics or the mythology before.
I loved the characters in this, especially Yȇn (the beauty) and the dragon Vu Cȏn (the beast). Their relationship works better than a lot of other beauty and the beast re-tellings because despite them being instantly attracted to each other, they are aware of the power imbalances in their situation, and addressing the problems of this unequal footing is a huge part of the story. Early on, Vu Cȏn even has to remind her children about the differences between consent, and enthusiastic consent. This story never feels like Yȇn has Stockholm Syndrome, and it never feels like the reader has to excuse Vu Cȏn's actions to find her likable. Both of them are trying to be good people and do what they can to make the world a better place. The only thing I didn't like about their relationship is that the sex scenes are unappealing. Vu Cȏn is described as cold, and wet, and I think compared to a swamp at one point, even while in human form. I get it, Vietnamese dragons live in water, and I bought that Yȇn was into it, but I wasn't. It really made it really not feel like a romance story to me.
This is a story that uses both fantasy and science-fiction elements. The world has been ravaged by cruel alien invaders referred to as Vanishers, but there are also dragons and a magic system that involves worlds physically manifesting. Because of this, I never felt like this was a fairy tale, even though I saw a lot of elements from Beauty and the Beast. I also had trouble visualising some descriptions of the palace and some spells. Not sure how much of that is on me. Some scenes did work for me, like when Yȇn and Vu Cȏn's children are walking through a hallway and the floor turns into windows. The palace is supposed to be a place where the normal rules of reality don't apply and everything is confusing, but sometimes it left me a bit confused trying to work out what things looked like.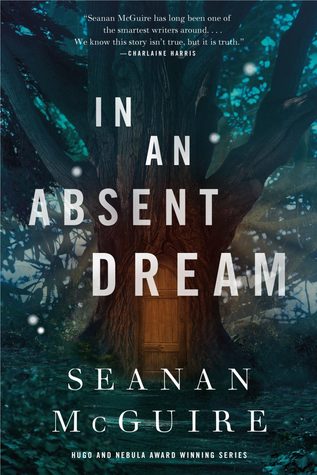 In an Absent Dream
By Seanan McGuire
Published: January 2019
Score: 9/10
The fourth entry in McGuire's Wayward children series, but you don't need to have been following the series to enjoy In an Absent Dream. It helps a lot, and I don't see why you'd want to start the series on book 4, but it can be done. Every second book in this series is a stand alone story about one of the children from the main plot encountering their portal world.
This story follows Lundy, the teacher from Elanor West's school, as she finds a door to the Goblin Market. Like book 2 of the series, Down Amongst the Sticks and Bones, I absolutely loved the worldbuilding here. The Goblin Market felt like an enchanting, magical place and despite all the hardship Lundy endures there, every time she went back to it, I felt happy to be returning with her.
One gripe I had was that the ending depends on Lundy's tendency to find loopholes to rules, but I feel this was merely an informed attribute. When her teacher wants her to leave the classroom so she can lock up and Lundy just wants to stay at her desk reading, she tries to convince her teacher that she doesn't need to follow the rules. She also uses the rules of her boarding school to get into a position where she can escape, and she gets a bit creative with negotiating debt in the Marketplace, but I never felt like she engaged in the level of loophole abuse that would have led her to the decision she made at the end.
In the end though, I still loved this novella. I listened to it as an audiobook narrated by Cynthia Hopkins, and the narration was flawless.
Now the big question… can I use this story to tick off the 'Has Unicorns' tile on my book bingo challenge? One of the side-characters, Vincent, is a unicorn-centaur… but I suppose unicorn-centaurs aren't actual unicorns.
The Dunwich Horror
By H.P. Lovecraft
Published: 1928
Score: 8/10
Bingo Tiles: Has Monsters
One of Lovecraft's classic stories, which even today is a good horror story. The Dunwich Horror is part of the Cthulhu Mythos and is included on most lists of best Lovecraft stories and classic horror. The story follows Wilbur Whateley, a strange child born to a degenerate hillbilly mother in an isolated place called Dunwich and educated by his wizard grandfather. No-one knows who little Wilbur's father is, but there are hints that he isn't exactly human. Wilbur ages much faster than than a normal child, and eventually stands nine feet tall. There are also hints of strange rituals from the house, and despite the family constantly buying cattle, their herd never grows.
After many years, the monster that the Whateley's had been hiding breaks loose and starts terrorising the countryside. And no, I don't consider that a spoiler; there are always monsters or Elder Gods being summoned and unleashed in these stories, that's like, Lovecraft 101. The scenes of the invisible giant monster going around causing havoc were amazing.
This could have been one of my favourite Lovecraft stories, if it hadn't been for the dialog. Lovecraft didn't include a lot of dialog in his stories, but in this one the characters talk a lot. The Dunwich locals speak in a dialect, and the way Lovecraft has written their speech was hard to follow. Maybe it's just me, but I just came to dread whenever anyone spoke. Also, it's Lovecraft, so, expect some cringy comments. Not as flat out racist as other works, but there's still some stuff. Also, you can tell that Wilbur's mother is 'degenerate' because she's an albino.
This is a must read for Lovecraft fans.
Unheavenly Creatures
Coheed and Cambria
Released: October 2018
Alright, this isn't a book. This is the latest album from progressive metal band Coheed and Cambria, and now that I've finally listened to the whole album I have to praise it. I have been listening to the songs Unheavenly Creatures and Old Flames for months now. Especially Unheavenly Creatures; damn I love that song.
Buying the album made me aware of other great songs including my new favourites It Walks Among Us, True Ugly, and Lucky Stars, which despite beginning with the lyrics "This could be the biggest mistake we make in this life", would make a great wedding first dance song. Though I'd need to run the song choice by my partner. As well as the first dance idea. And also the whole wedding thing.
Most of Coheed and Cambria's albums are concept albums based around frontman Claudio Sanchaz's Amory Wars comic books. Which no, I haven't read yet, but they are on my radar now. Maybe. I like the music and I enjoy the concepts, but I came across the written story of this album and the writing didn't appeal to me, so I'm weary about reading the comics.
This album is my first exposure to Coheed and Cambria, so I can't really comment on how it works as a continuation of the overall story or how well it compares to previous works. What I can say is that Unheavenly Creatures is a wonderful piece of musical storytelling. We are treated to a romance between Nostrand (Creature) and Nia (Sister Spider). They rob a bank with the 'help' of another criminal called Otto, and the robbery doesn't go to plan. Nia is left for dead, and Nostrand and Otto are arrested and sent to prison planet The Dark Sentencer.
Even if you know nothing about the story or the world and don't get much of the story from listening to the album, this is still great progressive metal and well worth a listen for any metalhead.
That was my January. There were a few other reads: I'm still catching up with my back issues of Analog, but whilst there were some enjoyable stories in the October/November issue I read last month, there was nothing that really stood out to me. I am finally caught up on the graphic novel series Saga, but I really want to gush about it so I'll make a separate post about the whole series soon.
This February I don't plan to read as many books, but I am going to actually read some novels. And I'll be caught up on Monstress soon too. I've also come by a number of new books, and so far February is shaping up to be a really good month for me.
Happy Reading,
~Lauren