So it's now 2019. The year of Akira, Bladerunner, The Running Man, The Island, and probably a few other stories. From now on I'm going to have a little helper with all my posts. Meet Knight. He likes sleeping on the keyboard and chasing stuff on the screen. From now on, I'm blaming him for any typos that appear in this blog.
If you're still following my blog, you're probably more interested in what I'm reading than my kitten. Though he is cute and I like showing him off. So, time to talk about how I'm going to motivate myself to read more this year.
Goodreads Challenge
Last Year on Goodreads I challenged myself to read 50 books, though once I started breezing through some graphic novels I upped it to 60, a number I met. One problem I have with this challenge is wondering what to classify as a book, since I do read shorter fiction, and some novelettes have their own entry. Previously I have classified novels, novellas, magazine issues and graphic novels as 'books'. Occasionally, I will throw in a novelette, usually if it was part of a series and I wanted to tick it off. Last year I added two 'books' that probably shouldn't have counted. I added The Quantum Magician to my challenge, even though I also added all four Analog issues I read it in. My reasoning was that I didn't want to forget I'd read it, but technically it is represented on the list twice.
But this year I'm doing 100 books. I think with a number that high, I'm justified in throwing in everything. The important thing is just to keep reading.
Book Bingo
I missed doing a book bingo challenge last year, so now the bingo cards are back. I didn't want to choose my own challenges, since I'd probably make that too easy. My friend Ally over at Ally's Appraisals is doing her own book bingo challenge, and has invited others to use her card. The challenges on her card look like fun, so I'm going to give it a go.
With the help of my partner, I also made a book bingo generator for a randomised challenge. From a list of around 160 challenges, 25 were randomly assigned to this card.
The rules for the randomised challenge are:
Each book can count for one tile normally, however books used for alphabet challenges (e.g. Title Starts With N) can be used for one additional tile. I did a few trials of the generator before getting my card, and I feel like I have a higher than normal number of alphabet tiles on this one, so that'll be interesting.
Each card may have any one tile changed to a free square. Traditional bingo cards have the middle tile as a free square, but I really want to read more by Australian authors, so I'm going to leave that one, and instead am going to change 'Has Magic Swords' to a freebie.
If anyone else would like to try my book bingo generator, leave a comment and I will generate a card for you. The template I used was from Ally's Appraisals, but I'm working on one of my own. I don't know if anyone would be interested in seeing the whole bingo challenge list, but if anyone has ideas for challenges let me know and if your suggestion isn't on my list I'll add it.
Books I'm Looking Forward to
I have a feeling that 2018 is going to give us a loot of amazing books. Here are just a few that I am looking forward to.
Dragon Pearl – Yoon Ha Lee
January 15 2019 Rick Riordan Presents
I think at this point I'd read anything with Yoon Ha Lee's name on it, but I think this book could have sold me by just the synopsis alone. Dragon Pearl is a YA space adventure with elements of Korean mythology. The main character, Min, is a teenage fox-spirit, who wants to join the Space Forces and see the rest of the galaxy, just like her older brother Jun.
I am intrigued by stories that mix fantasy and science fiction elements, and I've seen Yoon Ha Lee mix the two very well in short stories such as Foxfire, Foxfire which features a fox spirit and a mech pilot , and The Starship and the Temple Cat where a cat ghost has a run-in with a massive rouge starship.
The City in the Middle of the Night – Charlie Jane Anders
February 12th 2019 Tor Books
A new novel by the author of All The Birds in the Sky, set on a tidally locked planet called January where day and night don't change, and time is what the ruling class say it is. An excerpt can be found here, and I want to read more.
The Raven Tower – Ann Leckie
February 26th 2019 Orbit
A fantasy novel by the author of Ancillary Justice? Of course I'm buying this one.
The Haunting of Tram Car 015 – P. Djѐlí Clark
February 19 2019 Tor.com
I read P. Djѐlí Clark's novella The Black God's Drums a couple of months ago, and now I want more. The Haunting of Tram Car 015 is a novella set in a 1912 alternate Cairo with steampunk and fantasy elements, featuring Djinn and demons. This novella is exactly what the title says; tram car 015 is haunted. Two officers have to go in an perform an exorcism, but things end up getting complicated.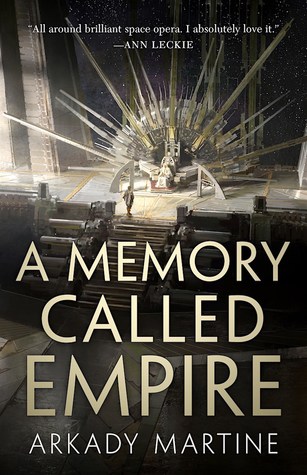 A Memory Called Empire – Arkady Martine
March 2019
Space Opera about an ambassador from a small mining station going to the capital of a great galactic empire and getting caught up in a political mess with a lot of murder. Okay, I don't know much about this one. I only know that Arkady Martine wrote The Hydraulic Emperor, that this is space opera with a galactic empire, a setting that I nearly always enjoy, and that the cover has the biggest space throne I have ever seen.
Descendent of the Crane – Joan He
April 2nd Albert Whitman Company
A debut novel set in a Chinese inspired fantasy kingdom where magic is banned. After the death of her father, young queen Hesina seeks the aid of a soothsayer to find his killer. I've heard this one described as a Chinese Game of Thrones, and am eager to give it a go.
This is How You Lose the Time War – Amal El-Mohtar and Max Gladstone
July 16th 2019 Saga Press
Two agents on opposite sides of a temporal war begin taunting each other… but then their bond becomes something more. I'm not usually a romance reader, but the idea of a time-travel romance novella has me intrigued.
As well as those new books, there are some sequels I want to continue on with. The next book in Seanan McGuire's Wayward Children series, In an Absent Dream, will probably be out by the time I post this. The Conclusion to Ada Palmer's Terra Ignota series, Perhaps the Stars is expected to be released this year, though I have found little information about it. I hope it is out in 2019, but if not that's okay. I want to read the entire series back-to-back when it comes out, so a bit of a wait might not be a bad thing. JY Yang's Tensorate and C.L. Polk's Kingston Cycle series will also continue in July of 2019, with The Ascent to Godhood and Greystar respectively. And of course, the next graphic novel in the Adventure Zone adaptation, Murder on the Rockport Express will also be out in July.
Wow, July is going to be a busy month for me. But then again, with a target of 100 books and two bingo challenges, I think the entire year will be a busy one for me.
Happy Reading,
~Lauren